OAuth 2.0 for Microsoft Accounts (installed applications)
This is the original version of the tutorial. It does not support .NET Core (only .NET Framework is supported) and does not support authorization token exchange via a local web server (which is often the most convenient method possible). The revised application is explained in OAuth 2.0 for Microsoft Accounts (installed applications running HttpListener) topic.
The idea is to create a Windows application which can access Outlook.com, Hotmail.com or Live.com account of a user via IMAP and SMTP without knowing the password of this user.
.NET Core and UWP/UAP notes
This is a .NET Framework version of this guide (it uses DotNetOpenAuth library which exists for .NET Framework only). If you're on .NET Core, see this version. Universal Windows sample is explained in OAuth 2.0 for Universal Windows apps guide.
Register Microsoft project
Create an application in Application Registration Portal. You may need to create an account there first.
For OAuth 2.0, create a Live SDK application. Click Add an app in Live SDK applications section.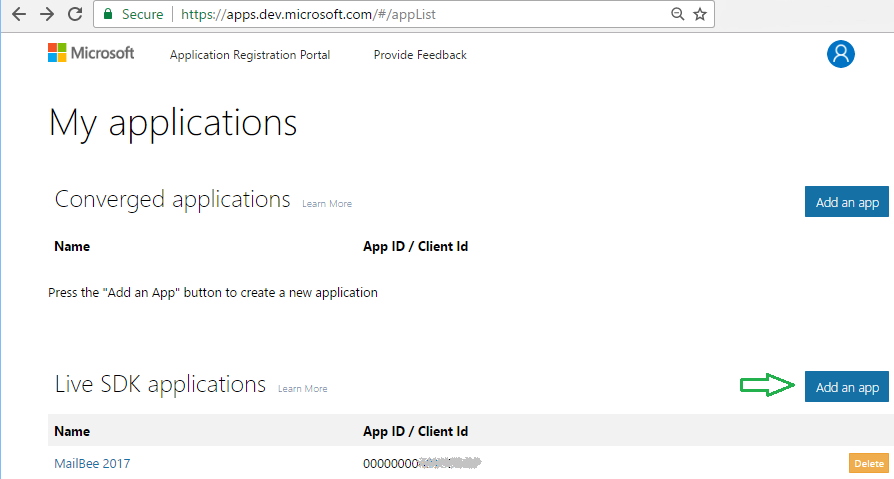 On the next screen, click Add Platform and select Native application, then save changes.
You may also add Web platform as well. This is not required by gives you the ability to use the simplified approach for getting OAuth authorization code from Microsoft server (so-called local server, see below).
Application ID (Client ID) and password (application secret) are there as well.
Make sure to add the required permissions (scopes) as well:

Microsoft is changing things there often. Sometimes, Live SDK app simply doesn't work and you may try creating a Converged application. Also, you may be asked to use Azure portal instead of apps.dev.microsoft.com site. At the moment of writing, Azure portal was not stable enough for that.
Create application in Visual Studio
Now create a console application in Visual Studio. Alternatively, you can open OAuthConsoleApps sample project and set MicrosoftEasyLogin class as startup object in the project properties.
If you need WinForms version, check MicrosoftOAuthWinForms sample.
Then proceed to adding the required dependencies. One NuGet package manager console and type:
Install-Package DotNetOpenAuth
Install-Package Newtonsoft.Json
Install-Package MailBee.NET

Alternatively, you can use Add Reference to plug MailBee.NET.dll to your project. It resides in Assemblies/Framework/Extensions in case if MailBee.NET Objects is fully installed in the system, or use Browse if you have just the .DLL file.
The sample does not use ExternalProviders library (like it's done in web apps version of OAuth 2.0 tutorial). The library uses ASP.NET Identity database as storage of access tokens and related data but we're not using that database in the sample for this article.
Using MailBee.NET and DotNetOpenAuth to access a Microsoft e-mail account
That's what we need to do in order to get access to the user's e-mails:
Request authorization from Microsoft to access the scopes of IMAP/SMTP and the e-mail address (areas of authorization are called scopes).
Do the authorization using Client ID and Client Secret issued by Microsoft to our application. This will open the browser window with Microsoft web page asking the user to authorize our application. If the user agrees, Microsoft delivers the authorization code by redirecting to the page which has this code in the URL.
Then we request Microsoft server again to get the access token using the authorization code provided (the user will have to manually copy/paste the authorization code from the URL to our app).
Use the access token and the e-mail address of the user (we assume it's know from other sources) to build XOAUTH2 key.
Use MailBee.NET to connect to imap-mail.outlook.com (smtp-mail.outlook.com for SMTP) and log in using XOAUTH2 authentication method. The same mail server name works for all Microsoft services including Hotmail.com and Live.com domains.
Do whatever needed in the user's mailbox (IMAP), or send an e-mail (SMTP).
In subsequent topics we'll also add autodetection of the user's e-mail address, programmatic delivery of the authorization code from the browser to the application, and more. For now, let's stick to the simplest implementation.
This sample does not use async methods of MailBee.NET library. For async version, refer to MicrosoftOAuthWinForms sample. See Sample projects overview section for details.
Autodetecting the user's e-mail address
If you don't want to have the user to type their e-mail address manually, you can autodetect it, provided that you change the scope from wl.imap to wl.imap,wl.emails. You can also get other details of the user such as their name.
The below is the code snippet demonstrating how GetUserData method can be called, and the code snippet which implements the method itself and its supporting methods and types.
You may also need to add some using directives (Imports in VB) to make this code compile. Refer to OAuthConsoleApps\MicrosoftLogin.cs(vb) for the full list.
Usage
---
Implementation
Note that it's not required to get the e-mail address of the user on every run of the application for the same user. The e-mail address of the user will never change so you can save the result once and then re-use on future runs.
Using Offline mode and refresh tokens
Microsoft access tokens are short-lived, their lifetime is just 1 hour. We can enable "Offline mode" scope when requesting authorization and get the refresh token in addition to the access token. After that, the access token can then be renewed without user interaction.
To persist access/refresh token data between sessions, any kind of data storage can be used. For instance, JSON-serialized text file. We need to implement this persistence manually as DotNetOpenAuth library does not provide any means for that (unlike Google APIs).
Instead of GetAccessToken method from the original sample, let's introduce GetOrRefreshAccessToken.
In case if you're getting error 400 from Microsoft server during consumer.RefreshAuthorization call, you'll have to disable chunked transfer encoding when making HTTP requests to the Microsoft server. This is clearly a bug in their service and the only known workaround is to modify DotNetOpenAuth library for that (more exactly, DotNetOpenAuth.OAuth.Common.dll). You can find it on Github. The file to be updated is DotNetOpenAuth.OAuth.Common\OAuth\DefaultOAuthHostFactories.cs. In CreateHttpClient(HttpMessageHandler handler) method, add client.DefaultRequestHeaders.TransferEncodingChunked = false;.
You can use this method like below:
We read the stored access token data from a file (tokenFile must contain its filename) and pass it as authState object to GetOrRefreshAccessToken method which updates it if necessary. If the method returned null (Nothing in VB), the refresh is not needed and the method did nothing. Otherwise, the token data in authState object has been changed and the app must update the access token file to save the changes.
After that, authState.AccessToken string can be used to pass OAuth 2.0 authentication against Microsoft server (just like in the previous samples).
Automating authorization code delivery from the browser to your app
The original sample simply started the browser prompting the user to copy/paste the authorization code from the web page to the app manually. There are methods to automate this.
Unlike Google APIs library which provides the built-in mechanism of authorization code delivery to the app, DotNetOpenAuth has no means for that. What options do we have?
We can create a Form, put WebBrowser control there (actually, Internet Explorer), navigate it to Microsoft OAuth authorization page, let the user complete the authorization so that "code" parameter finally appears in the URL, and grab that code.
Or, we can start a process to open the default web browser at Microsoft OAuth authorization page and start monitoring of system processes to wait till the moment when "code" parameter appears in the process name.
Pros and cons:
With WebBrowser control, the user will have to fully log in their Microsoft account, including typing the e-mail address (not very convenient). This is because WebBrowser control environment is not the same as the default browser's environment where the user may have already been logged in. However, this method always works.
With launching the default browser, the user won't have to type the e-mail address as they most likely are already logged in Microsoft account there (requiring less actions from the user). The password is still needed to be entered as Microsoft always requires that when the user grants access to an application (this is Microsoft-specific behavior, Google currently does not require that). However, this only works with Chrome and IE. Firefox does not show the current URL in the process name.
WebBrowser approach seems to be a better alternative:
It does not depend on whether the default browser puts URLs in its process name.
The fact that the user has to type the e-mail address is not a big deal as the password is needed to be entered anyway (Microsoft requirement).
If you're creating an app which will support both Microsoft and Google, you need to take care of Microsoft only regarding this issue. Google API hides authorization codes in its internals and the app receives the access token right away.
Actually, it's also possible to simulate Google method of delivering authorization token to the application when dealing with Microsoft OAuth provider. Google API internally starts a local web server on localhost domain and Google web site redirects the browser there once the user completes the authorization process. The same approach can be used with Microsoft as well. See LocalServer version for details.
Obtaining authorization code with WebBrowser control
You can display a form even in a console app, although it requires a bit more coding than in WinForms app (MicrosoftOAuthWinForms is an example).
The main method is RunWebBrowserFormAndGetCode. In a console app, you need to run in on STA thread (WebBrowser control limitation), so there is StartTaskAsSTAThread helper method.
And be sure to add reference to System.Windows.Forms.
Usage
---
Implementation
Note that in native WinForms apps, StartTaskAsSTAThread method is not needed. MicrosoftOAuthWinForms sample project demonstrates using RunWebBrowserFormAndGetCode method directly.
Obtaining authorization code using the default browser
In case if you still think WebBrowser control approach does not suit your needs, you can use the alternate approach of running the system's default browser.
You can explore the full code #region "DefaultBrowser" section in OAuthConsoleApps\MicrosoftLogin.cs(vb) file to see how process monitoring can be implemented. Here, we just list the main method to let you get the idea.
As you can see, this method also utilizes "state" parameter in OAuth URLs. Unlike WebBrowser control which is fully controlled by our app, running the default browser does not guarantee the user won't change the current tab (making it active) and this tab won't have the same URL like the one we need (for instance, if the user recently authorized our app and didn't close that browser tab). We need to somehow make sure that the currently opened browser tab was indeed initiated by our app. Moreover, by the current run of our app. For that, we set "state" parameter to some timestamp and then compare the browser process name (i.e. URL) if it contains that timestamp.
OAuthConsoleApps\MicrosoftLogin.cs(vb) also shows some techniques to let the user bypass the standard method of waiting for the authorization code in the process name and type it directly in the console. For instance, if the current browser does not set the process name from the URL, the user will still have an option to copy/paste the code manually. This means the app must support two input sources simultaneously - from the browser process and from console input.
For instance, the sample shows how to stop waiting for console input in case if the result became available by other means (from the process name in our case). The sample does this by sending [Enter] keypress event to the console.
Revoking Microsoft access token
Unlike Google APIs library, there is no built-in method of revoking refresh tokens yet in DotNetOpenAuth library. However, you can make a direct REST query for that. See Revoke refresh tokens section in Manage access tokens for API requests for details.
Sample projects overview
All the code in this tutorial is available in MicrosoftEasyLogin and MicrosoftLogin classes of OAuthConsoleApps project. WinForms version is available in FormMain class of MicrosoftOAuthWinForms project.
All samples are available in both C# and VB versions.
MicrosoftEasyLogin provides the very basic means of using Microsoft OAuth provider to check the user's mailbox via IMAP.
MicrosoftLogin adds autodetection of the e-mail address, persistent storage of access token data, Offline mode and refresh tokens, automated detection of the authorization code via detecting it in the browser URL(manual user input is still available), sending e-mail via SMTP.
FormMain class MicrosoftOAuthWinForms sample has most features of MicrosoftLogin class of OAuthConsoleApps, with the following differences:
MicrosoftLogin provides 2 methods of getting the authorization code: with WebBrowser control and launching the system's default browser in a separate process. FormMain class only offers WebBrowser control as the natural method for WinForms apps.

FormMain class uses async methods which don't block UI during send e-mail or check e-mail operations with MailBee.NET Objects. Most of the operations can be canceled by hitting ESC or closing the app.

OAuth calls involving DotNetOpenAuth library are still sync-only due to the lack of async versions in the current version of DotNetOpenAuth (can be worked around by putting the entire thing in a worker thread, however).
Get source code
All C# and VB samples discussed in this article (MicrosoftOAuthWinForms and OAuthConsoleApps) are shipped with MailBee.NET Objects installer and get installed into My Documents\MailBee.NET Objects\Samples\WinForms\NET 4.5 OAuth folder.
---
Copyright © 2002-2022 AfterLogic Corporation. All rights reserved.